Frequently asked questions
How are Maltese Tiles made?
---
Unlike most ceramic tiles, Maltese tiles are not fired in a kiln, but created under extreme pressure. Liquid cement is coloured with different pigments and poured into a pattern mould placed within a frame. The mould is then lifted out and powdered cement is sprinkled on this layer of coloured cement.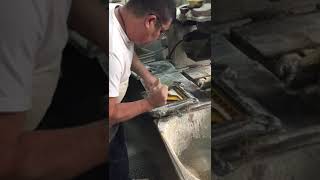 The frame is then placed under extreme pressure which binds the elements together, instantly creating a finished Maltese tile. Here you can see the process as carried out by Chris Colombo, one of the few artisans left in Malta. His workshop is on Naxxar Road, San Ġwann.
---
How long have Maltese tiles been made for?
---
It's hard to determine exactly when Maltese tiles became the flooring of choice in Maltese households though it seems as though they appeared around 300 years ago. Examples of cement tiles can be found at both ends of the Mediterranean basin stretching from Spain to Turkey.
---
Can I create my own Lazarus Tiles edition with my own tiles?
---
Yes! Simply scroll to the bottom of the items in the Shop section and select Resurrect Your Own. Once purchased, we will be in touch to arrange delivery of the tile after which we will create a bespoke frame for it. We will also name it and write out a certificate to confirm this and the edition number.
---
Where do the tiles get their names from?
---
Maltese tile makers used to have different names for the various patterns but no set naming system exists. Some examples of the names used were 'Il-Bettiegħa' and 'Għajn il-Baqra'. Since so many of the patterns remind me of the various plants and flowers found locally, I drew on the names of local flora for the different tile patterns.
---
---
INTERNATIONAL SYMPOSIUM AND CONFERENCE
ON
Creativity For Sustainable Education
09 - 12 November 2020
Council for Creative Education (CCE) Finland cordially invites you to participate and explore the
Creativity for Sustainable Education.
SPECIFICATIONS FOR PAPER PRESENTATION:
Each presenter will get 20 min for presentation + 10 min for Q & A.

The presentation should be only in MS PowerPoint (ppt /pptx) or PDF formats.

The first slide should display the title of the presentation & name of the presenter.

Presentation time restrictions will be strictly followed.

The presenter will be provided with an LED screen with a USB drive (if required).

Presenters are requested to send your presentation in advance to avoid any last-minute technology issues.

The deadline for presentation submission: 31.08.2020
The time slot for all the presentations with the presenter's name will be updated on our website by 5th April. 2020. The participants will be informed accordingly.
For more details please visit:https://www.ccefinland.org/7th-symposium-and-conference
CCE has been always innovative in conducting Symposiums and Conferences. In order to make the event successful your active support is always appreciable.
To make your presentation more attractive and also to get a greater audience to your paper, we highly recommend you to follow these steps:
1. Kindly send us your introduction in 5 sentences highlighting your research area.
2. Create a video for 1 minute which will be showcased during the symposium and prior to that.
3. Note: Your paper presentation will be recorded during the symposium.
Guidelines for creating a video :
1. Just stand in front of a video camera or decent webcam with a plain background.
2. Kindly make sure that your voice is the clear and audio quality is good.
3. The length of the video should not exceed more than 60 seconds.- just your introduction, the main theme of research and a highlight of the paper in the English language.
4. Kindly send the footage of recorded video to info@ccefinland.org
5. Additionally, you may upload the video to YouTube and can share the link.
6. The deadline for video submission: 20.09.2020
Kindly note, full paper submission guidelines will be sent 2 weeks after the conference. All the papers received will be peer-reviewed and will be published in the form of an eBook with ISBN number.
Please feel free to email at info@ccefinland.org for any queries, information and/or questions on your paper/abstract, mentioning the type of query in the subject line.